If you don't have any roe from fish you have caught, you need to find some good fresh looking eggs from the fridge at a local tackle shop. That can be tough - most of them carry Morgan's roe and when I last used it I was very disappointed. The stuff at Cabela's is slightly better - I forget the brand.
There are a few basic techniques for fishing with roe. You can try plunking using a pyramid weight, 3 way swivel or spreader, and Spin-n-glo with a chunk of roe in the bait loop on your hook. This used to be very popular on the Nooksack, but I haven't seen many plunkers in a long time.
You can also try drift fishing with just enough weight so it glides above the bottom or you feel it tick bottom every few feet. You need to use a corky or some other buoyant lure to float the bait up off of the bottom if you are fishing this way. Fix the corky just above the hook with a toothpick so it doesn't slide up your leader.
My choice would be float fishing. Depending on the water (depth and speed), choose an appropriate sized float and enough weight to make the float stand upright and so there is about an inch sticking up out of the water. That way the added weight of your roe won't sink the float completely. Use about an 18 inch leader, and try to adjust your float so that your bait is drifting a foot or so off of the bottom (this can be hard to gauge in cloudy water, lots of trial and error). Experiment with going shallower and deeper if you know you are drifting it over fish. You can try putting some yarn in the egg loop with the roe to add some color - I like orange or chartreuse.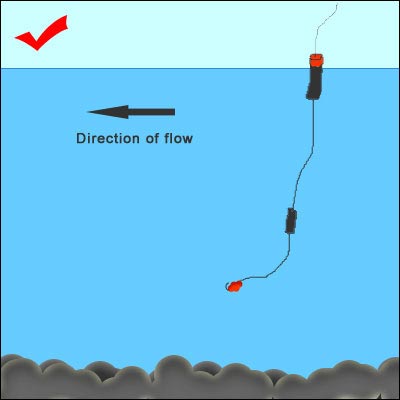 This is how to tie an egg loop or bait loop on your hook.