Upcoming Member Adventures
by Rob Holman, May 02, 2017
Awesome trips planned for this year
Last June, Northwest Fishing Reports had the opportunity to invite members to join us as we fished and filmed with Reel Obsessions in the village of Zeballos on Vancouver Island, BC. Everyone had a great time and we produced 3 amazing adventure videos for our TV show and publishing online. We did it again for Tuna out of Ilwaco, Wa. Another great trip! This winter some members joined us with Reel Time Fishing for Steelhead on the Clearwater, and that was a blast! Members seem to like us putting these trips together on top fisheries with reputable guides that offer great experiences. The chance to be on TV and be part of the filming only adds to the fun for many.
As the TV show has aired, we've been offered all kinds of new adventures. Our idea for the show and the online videos is to cover trips that are doable for most people in the Northwest, and offer tips and tactics to that will make for successful outings. So we're planning on focusing on a few quality trips each year. We want outings that work well with groups, but also offer a special value and element of adventure that is a bit out of the ordinary.
Northwest Fishing Reports has always been about our "members" and the chance to hang out with you, doing what we love, and doing some great fishing is what it's all about. Check out past videos for more information on these guides and charters and past adventures we've had with them. Feel free to contact them directly with questions. Also, all adventures are booked DIRECT with the charter or lodge. Northwest Fishing Reports does not monetarily profit from these trips, we're just sharing the opportunity! When booking, be sure to mention the
Northwest Fishing Reports Adventure for the special rates and packages below.
We invite you to come along as we fish and film with the following guides and charters this year: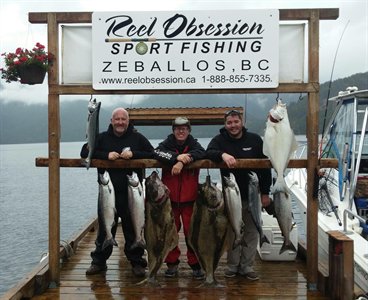 CANADIAN ADVENTURE
REEL OBSESSION – NEARLY SOLD OUT
ZEBALLOS, VANCOVER ISLAND, BC

June 15-17 – One boat available

This trip is for 3 days of fishing. It's all inclusive, exceptional food, lodging, bait, fuel, fish processing & vacuum packing. It's top notch. Target species are halibut, salmon, ling cod, bottom fish like yelloweye and vermillion. Guests receive some nice gifts and are entered into a drawing for $1000 in gear from REEL OBSESSION. You're responsible for getting there, and your Canadian fishing license. Contact Adrian for more details. Price is $1250/person based on 4/boat. Call 1-888-855-7335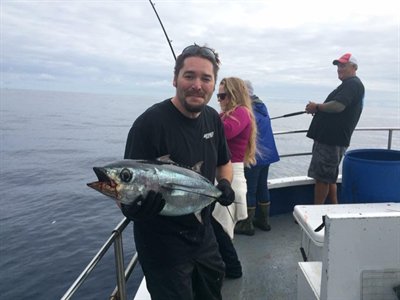 WASHINGTON TUNA ADVENTURE
SEABREEZE CHARTERS

July 7 – 6 seats open

One day of fishing for Albacore out of Ilwaco, Wa. We leave bright and early and motor out to 45 miles or so off the coast. A majority of the fish come from "bait stops" that can produce epic fast action for these delicious, hard fighting fish. The boats are comfortable, have full cabins and bathrooms, and fish 10 anglers at a time. Bait & fuel included. You're responsible for lodging, food, fish processing, WDFW license, and getting to the dock by morning departure. Call Seabreeze Charters with questions. Cost is $260/person. Call 800-204-9125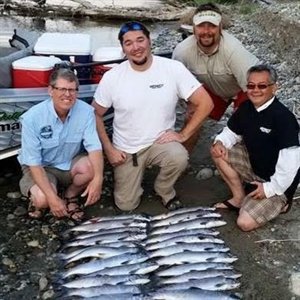 UPPER COLUMBIA SALMON ADVENTURE
OKANAGON VALLEY GUIDE SERVICE & GAMBLE SANDS RESORT

July 22nd

This is a nice package that includes lodging the 21st at the premier Inn at Gamble Sands, a $20 food voucher for dinner on the evening of the 21st, and a Northwest Fishing Reports T-Shirt. The target species will be big upriver Kings and the chance for Sockeye pending WDFW seasons. This is can be explosive and OVGS knows this fishery well! All bait, tackle, fuel, and fish cleaning included. Very limited availability on this one. You're responsible for getting there, and the appropriate WDFW license. Call Gamble Sands to book. Cost is $280/person. Call 1-509-436-8323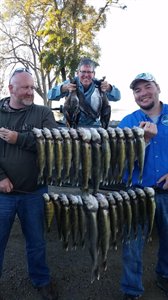 POTHOLES RESERVOIR CAST (WALLEYE) & BLAST (DUCK)
ROSS OUTDOOR ADVENTURES

October TBD

Awesome trip with the Potholes Premiere Cast & Blast outfitter, Shelby Ross. Great trip for beginning hunters and great way to produce excellent table fair! Trip includes lodging at the MarDon Resort, dinner the night before with NWFR at MarDon, lunch in the blind day of hunting, fuel, guide services, all included. You're responsible for getting there, appropriate WDFW license, and hitting something. Call Ross Outdoor Adventures with questions or to book. Cost is $325/person. Call 509-750-7763
We hope you'll join us on one (or more!) of these fun filled adventures. See you at our 2017 Member Adventures!