Twelve Days of Christmas Gift Ideas
by NWFR Staff, December 12, 2018
The winds are blowing, the first snow is threatening, and your rod guides are freezing up. There's not a fish in sight and much as you love getting out, that warm crackling fire is calling your name. Not to mention your laptop computer as you search out the perfect gifts for your fellow anglers – or yourself. Your spouse is asking you "what do you want", right? Well, if you're running out of ideas here are a dozen gift giving solutions for the twelve days of Christmas. Get that fire roaring, mix up a hot toddy and relax next to your Christmas tree as we humbly suggest the perfect stocking stuffers for your fishing buddy (or yourself).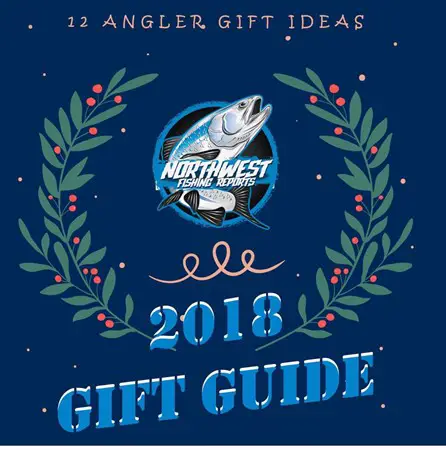 Cold weather, wet weather, no matter the weather a good base layer will keep you on the water and fishing in comfort. Our pick for base layers is hands down is Grays Harbor Unders or
GHunders.
Mario Winkelman, Inventor and President of TMG, began designing the best way to stay comfortable back in early 1972, while working in the rain forests of the Olympic Mountains. His experiments with fabrics - including wool, cotton and nylon - revealed that certain evaporative cooling techniques maintain comfort in warmer temperatures. His dual layer fabric transports moisture from the inner layer to the outer layer keeping the skin dry even while wringing wet! Patented in 2005 and made proudly in the Pacific Northwest, these are the only base layers you'll ever need (and want!). For the month of December, anyone who chooses "Northwest Fishing Reports" at checkout will relieve a special gift!
Fillet Away Fish Mats
are another product born in the Pacific Northwest. We know how valuable a resource the fish we catch are and as responsible anglers we want to maximize the amount of meat we filet off our fish. Using a revolutionary design, the Fillet Away fish mats will hold your catch securely allowing you to cut a perfect filet every time. When finished, simply rinse off the mat, or swish it in the water and it is clean - and best of all, it doesn't absorb oils or odors so it will never stink!
A good, affordable line counter reel is an invaluable tool. Whether long-lining a walleye plug back a hundred and forty feet, or running salmon gear in the saltwater, it's good to know just how much line you have out. The
Okuma Cold Water series reels will do the job for you exceedingly well and without breaking the bank. Best of all, NWFR members can enter to win a free reel!

Want to leave the hassles of towing a boat, setting up shuttles and negotiating rocks to an expert? All the while increasing your odds of getting on the fish? For fishing the Olympic Peninsula rivers we recommend Chrome Inc. Guide Scott Crawford has been fishing the rivers and streams of Washington for over thirty years. If there's a salmon or steelhead to be had Scott will get you on the fish. Treat yourself to a day of guided fishing – you'll relax, have fun, and learn a ton! Now through December 31st, Chrome Inc. is offering a special discount to NWFR members reserving trips or purchasing gift certificates for 2019.

Up next on our Wish List is something we seldom think about but having a bad one can seriously mess up your day, not to mention your outboard motor. We're talking about a good, properly balanced and fitted prop. Our go to for propellers is Precision Propeller out of Spokane. This past year with the help of owner Darren Prouty, Mike Carey's Thunderjet got a new, stainless steel prop. His boat picked up 3-4 mph top speed, not to mention jumping out of the hole. Precision Propeller offers free boat to prop consultations - for the hard to shop for angler this is a great gift idea! Give them a call! They ship throughout the United States, so, if your boat needs some get up and go a new prop may be just the ticket.

So, your son is hooked on XBOX. And, he won't put it down you say? Well, load up Dovetail Games Fishing Sim World and have him chasing trophy fish instead of ugly monsters. Fishing Sim World features jaw-dropping visuals, actual brand name gear, and fish that you have to out-smart, just like real life. Best of all, he'll be fishing actual locations, not fantasy lakes and rivers. Available for PlayStation as well. You may find yourself sneaking a few fishing trips as well…

Idaho's Salmon River offers a wealth of fishing opportunities for steelhead, salmon, sturgeon, bass, and trout. All set to a backdrop of spectacular scenery that guide Homer Brown would love to share with you. It's his backyard, but your bucket list fishing trip. Are you in to hunting as well? Hammer Down Excursions also offers one and two day "cast and blast" adventures for chukar and seasonal fishing. Or maybe you'd rather go head to head with a twelve foot sturgeon? It's all waiting for you in Idaho with Hammer Down Excursions!

Everyone likes new tackle, right? Next up are a couple of our favorite outdoor tackle companies.

Wigglefin Tackle's founder and creative genius is Dean Teegarden. Dean is the creator of the revolutionary Wigglefin Action Disc that is placed in front of your lure to make it dart and tease and cause rod bending strikes. It's perfect for most all species of fish you're after – bass, trout, kokanee, walleye, and salmon – Mike Carey has caught them all with a Wigglefin in front of his lure. Dean's latest creation is the "Swarm Flasher" a deadly addition to the troller's arsenal for trout, kokanee, and salmon. Now through the end of the year save 20% on your entire online order at checkout.

If we name drop "Mack's Lure" there probably aren't too many of you that don't know this leading northwest fishing tackle company. That said, they've just come out with a new product that I'm personally very excited to test out. The UV Triangle Flasher is sure to change the way we look at triangle flashers. The triangle shaped flashers put out amazing UV flashy colors that salmon and steelhead will find irresistible. But the icing on the cake (or should I say in the flasher) is the patented scent system that turns these flasher into a scent delivery system. Its sure to be a game changer!

One of Mike's personal favorite destinations is the Okanogan Valley. There are so many great places to fish such as Omak, Conconully, Spectacle and Palmer lakes just to name a few. Picture this – a "base camp in a comfortable hotel with all the amenities you could ask for after a full day of fishing. Spacious guest rooms and modern amenities including a complimentary full breakfast buffet each morning, indoor heated pool, and hospitality room, combine for an outstanding Omak getaway. Now add to that our NWFR Members rate of just $79.99 for double occupancy and you've got a fun get-away at a great price! All that can be found at the Best Western Peppertree in Omak. or call 509.422.2088 for availability (be sure to mention NWFR).

Sometimes when you want to "get-away" you really want to get away – like in another country. Well, as luck would have it we're just a border crossing away from one the most scenic fishing destinations NWFR has ever fished. All within a one day drive. I'm speaking of course of the tiny town of Zeballos on the rugged west coast of Vancouver Island. All-inclsuive* fishing with Reel Obsession Sport Fishing, BC for trophy salmon, halibut, and ling cod, will take you far away from the maddening crowds and back in time to when fishing was (and still is in Zeballos) great. Ask about NWFR rates for 2019. *Alcohol, gratuity, licensing not included.

Last on our list of our dozen gift giving solutions is a Worksharp products! To top it off we have partnered up for a holiday giveaway. If you don't have a Worksharp tool sharpener you're living a dull life (sorry, we couldn't resist). Seriously, this is another tool you would not want to be without. The Worksharp belt sharpener keeps knives razor sharp reducing waste and making your filleting job a whole lot easier. Plus, they are built to last. Every fishing report posted on the NWFR website between now and December 31st, 2018 will count as an entry into a drawing for an original WSKTS, compliments of the team at Worksharp. Remember, you can post reprts on NWFR, days, weeks, even months after fishing! Just upload some pics and details to share your experience (any day fishing is good!) with our fast growing membership.

There you go, a dozen gift ideas that any angler would be thrilled to have under the tree on Christmas. We wish you a Blessed Christmas and Happy New Year and may all your fishing dreams come true.